December is here! Later in the month the realm will become entirely festive, Makesh will put his Logosmas wares on sale, Ironbeard will make his rounds, and Merrywick will open once again! For the promotionally inclined stockings have returned to www.achaea.com/credits featuring a new talisman set, the Wanderer talisman set! Caches from stockings can also…
Read More

→
What's a MUD?
They're like text-based MMOs.

Smaller, tighter, friendlier communities.
Considered more immersive by many in the same way a book vs. a movie is.

MUDs are for gamers who appreciate game design over graphics.
Did you know?
MUDs were invented in 1979 by Dr. Richard Bartle and Roy Trubshaw! Achaea itself launched in 1997, in the same month that Ultima Online launched. We've been going strong ever since, under non-stop development.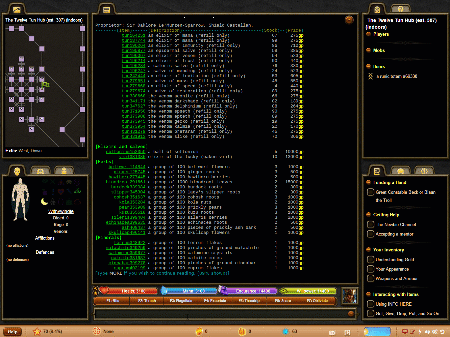 One Does Not Simply Walk Into Achaea.
Instead, one hits this button to play our MUD. Much easier, you have to admit.
Achaea: Free Online Text-Based Browser RPG
Are you ready to meet with the most immersive online browser RPG? Achaea is a text-based RPG flagship game. In the world of Achaea, you will be able to discover yourself while you are improving your character. There are many different and special classes that you will be able to reach. If you are looking for an immersive browser RPG game, Achaea will add more excitement to your life. Besides that, you will be able to play Achaea online text game on mobile at the same time. If you want to join this fantastic world, you need to create your character and start to play immediately!
What is Achaea About?
Achaea is a MUD game in constant development since 1997, boasting a vast array of features to suit all adventuring types. Beg, buy, or borrow a ship and sail the oceans in style, become a pirate and sink other ships for plunder, travel the world and discover new continents, secluded islands, and hidden quests, learn to mine and become a trade prince, or play the game of politics and lead one of our fully player-run city governments!
Achaea is designed with you in mind. All our city states are fully player run with elaborate functioning governments. Perhaps you fancy yourself a budding bureaucrat or a wannabe dictator? Both are possible! Work with or against other players in the most elaborate and complex PvP combat of any immersive MUD game. Anything is possible!
Achaea's 20 Unique Classes!
The MUD game Achaea has 20 unique classes available from the outset, and more that can be earned via devoted hunting and questing in game! If you are looking for a game that not only hosts established archetypes like the classic warrior, mage, or cleric but goes far beyond these iconic moulds, look no further!
Alchemist: Try Alchemy, synthesising and transmuting elements into useful minerals, and manipulating the body's humours to damage your enemies!
Apostate: Use the powers of necromancy as an evil Apostate knight.
Bard: Be a romantic troubadour, using voicecraft and music to influence your world.
Blademaster: Form your own individual named weapon, and master the Two Arts as a Blademaster.
Depthswalker: Be a shadowy manipulator of time as a Depthswalker.
Druid: Become a Druid, metamorphing into creatures of the forest to hunt.
Infernal: Become an Infernal knight using the power of necromancy.
Jester: Use pranks and jokes to baffle your enemies as a Jester.
Magi: Spin crystalline vibrations and use the power of the elements as a Magi.
Monk: The power of the mind, forged with body and spirit become one as a Monk.
Occultist: Chaos becomes your power as an Occultist.
Paladin: A loyal falcon companion follows the chivalrous Paladin knight.
Pariah: Shunned by most of society, the Pariah cheats death and brings plague to their enemies
Priest: Powerful priests use Devotion to summon an angelic companion and smite their foes
Psion: As a Psion, use the ancient magic of the Aldar to influence your world.
Runewarden: Using the magic of Runelore and Totems, the Runewardens are powerful Knights.
Sentinel: Forestal Sentinels use the power of animals and Nature
Serpent: Feared by all, the sneaky Serpent employs the skills of Subterfuge to confuse, and conquer.
Shaman: With powerful curses and fearsome vodun dolls, the Shaman is a master of control.
Sylvan: Using elemental magic and the power of the forest, the Sylvan transforms into a powerful Viridian for hunting.
Each of Achaea's classes has three unique skill trees to learn and master, each containing dozens of individual abilities to make up the fully fleshed-out class skill set. Some of our most diverse professions include the weatherweaving naturalists known as Sylvans, the ostracised disease mages named Pariahs, or the wielders of death magic and martial discipline that are the Infernal Knights of Mhaldor. Some skills are controlled by our various player-run city states and you will need to stay in their good graces to maintain your powers!
Multi-classing allows even greater depth of improvement for your character, enabling you to learn multiple skill sets and switch between them in order to master an array of different specialities. Perhaps you want to fight as a Kashari Blademaster, but enjoy performing outside of combat as a bard - create an account and play our multiplayer game online and you can do both!
A Text RPG MMO Game
It's time to enter the magical world of Achaea and get started in our free online RPG! Our flagship MUD game (which can be played entirely as a browser RPG) offers countless avenues for adventure and excitement, opportunities to create thrilling stories and explore the fantastic and incredibly large game world! If you are looking for an immersive MUD, Achaea is right here for you, a labour of love since 1997! Discover a living, breathing game world while creating, shaping, and discovering more about your character in a text RPG without peer.
Fantastic World of Achaea: Flagship Game
Are you ready to start your adventures? Will you be a pirate or a trade magnate, a soldier or a scholar? Everything that you do in Achaea is a product of your own choices and decisions; your character's journey is entirely your own, shaped and influenced by the fast friends and hated enemies you make along the way. Participate in one of our player run cities and perhaps you'll rise to the top as a demagogue leading armies to victory!
One of the most prestigious achievements in our MUD game is becoming a Greater Dragon. Dragonhood comes at level 99, allowing you to choose one of six dragon colours, transform into a draconic form and utilise an entirely distinct skill - Dragoncraft!
Abilities in Dragoncraft
The Dragoncraft skill is different from typical RPG MMO games in that it functions as an entire class and race by itself, capable of incredibly powerful hunting with strong PvP combat potential - particularly in groups. The abilities gained through this skill are as follows:
Dragonform: Transform into your draconic form.
Heal: Purge yourself of afflictions.
Flex: Destroy pesky bindings.
Armour: Call upon the blessing of Ashaxei.
Dragonsense: Seek out your prey.
Enmeshment: Entangle your foe with ethereal bindings.
Tracking: Travel quickly across great distances.
Hoist: Snatch up your next meal from the ground.
Leaping: Bound over any obstructions in your path.
Blocking: Use your bulk to obstruct exits.
Summon: Summon your breath weapon.
Blast: Unleash your breath against your prey.
Rain: Rain your draconic fury down upon the ground.
Gust: Knock your prey to the ground with a mighty exhalation.
Storm: Fill the air with your deadly breath.
Stream: Blast your foes from great distances.
Strip: Destroy your prey's defences with your breath.
Roaring: Let loose an almighty roar.
Gut: Disembowel your foe with your talons.
Rend: Rip into your prey's limbs with a mighty swipe.
Bite: Clamp your meal between your jaws.
Clawparry: Fend off pesky attacks with your talons.
Devour: Destroy them in a single bite.
Decapitate: Hack the head from an adventurer's corpse with claws.
Consume: Eat the corpses of your prey.
Trample: Crush the fallen under your massive bulk.
Tailsweep: Knock your enemies to the ground with your swinging tail.
Becalm: Take down those annoying flyers with a beat of your wings.
Demolition: Bring down walls with a massive blow.
Incantation: Crush your enemies with a wave of draconic might.
Illusion: Confuse the lesserforms with your intellect.
Veilglance: Fold the Veil and look into far-away places.
Veildeliver: Pass items instantly over great distances.
Piercetheveil: Pass through the Veil Extant.
Curse: Lay down a terrible curse to cripple your foe.
Tailsmash: A casual flick of your mighty tail.
Glide: You are the master of the skies.
Totalling 35 distinct abilities, Dragoncraft truly encompasses what it means to be a mighty Greater Dragon. Fill the air with your deadly breath storm, rain fire down on unsuspecting fools while you take to the skies in flight, shake off that which restrains you with your exceptional strength, and even pierce the Veil of Reality and travel great distances within moments. The Dragon class is one of Achaea's most popular, and many find that once they obtain these special abilities, they never want to give them up!