Check out our other incredible MUDs!
Achaea has been under constant development since 1995 and has been called one of the most immersive games ever made!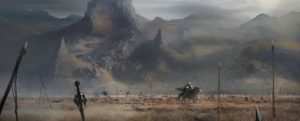 The drums of war beat with fury as the armies of Mhaldor and Targossas clash upon the ancient battlefield of Nishnatoba. As this brutal conflict comes to a head, the stakes have never been higher for the forces of Good or Evil. Check out Events news
#582
for all the gory details!
One Does Not Simply Walk Into Achaea.
Instead, one hits this button to play our MUD. Much easier, you have to admit.